SHU TAKADA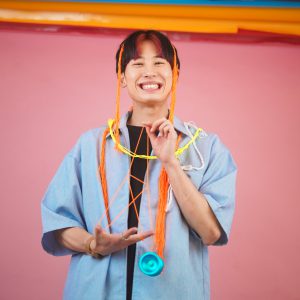 Yo-Yo Performer / 6x World Yo-Yo Champion
Birthday: October 7th 1996
Place: Based in Japan
Sponsor/Ambassador :XLARGE、DOLLY NOIRE、INSTA360、YOYOFACTORY、ZIIIRO、Xperia
At the age of 24, my yoyo life racks up to 15 years. During that time, I've become a 6 time World yo-yo champion in both the individual and artistic performance division. I have pursued a new style of yoyoing which incorporates dance moves and acrobatics. Although I am still young, my one-and-only style has caught the attention of people around the globe.
I've performed yoyo acts more than 10 countries and created a lot of unique contents on social media as an influencer. (Featured by Instagram official account, 9GAG and more.)
I'm sponsored by YoYoFactory which is one of the biggest yoyo brand in the world and my signature yoyo is on sale.
Titles
2019 World Yo-Yo Contest AP Division Grand-Prix
2019 NewComerShow2019 GOP Prize
2018 World Yo-Yo Contest 2A Division 1st Place (3times in a row)
2017 World Yo-Yo Contest 2A Division 1st Place
2017 All Style Performance Battle「CHOSEN1」Champion
2016 International Yo-Yo Contest「THROWDOWN!」Champion
2016 World Yo-Yo Contest 2A Division 1st Place
2016 Japan National Yo-Yo Contest 2A Division 2nd Place
2015 World Yo-Yo Contest AP Division Grand-Prix
2015 Japan National Yo-Yo Contest 2A Division 2nd Place
2013 World Yo-Yo Contest 2A Division 2nd Place
2012 World Yo-Yo Contest 2A Division 1st Place
2011年 44CLASH 2A Division 1st Place
2010年 44CLASH 2A Division 1st Place
…and more
Media & Events
Germany RTL Television Das Supertalent
ULTRA Japan 2019 ULTRA PARK STAGE in collaboration with Onitsuka Tiger
FM FUJI BEAT GOES ON
NHKBS Premium
ITV This Morning
BBC Blue Peter
FMYOKOHAMA Z-BOUNCE
TOKYO AFRICA COLLECTION
XLARGER×X-girl×chelmico Timeless
XLARGE®×G-SHOCK "DW-6900" SPECIAL MOVIE
Redbull Freestyle Football Guest Showcase
…and more